With more and more aspects of our live migrating from the real world to the digital one, it is as clear as day that the demand for app and software development is growing at a lightning speed. Apps and software have become essential tools, part of our everyday lives and we use them for almost everything. The thing is, there are only increasing in popularity, therefore, if you want to help your business grow and develop, an app related to what you do can really make a difference.
Providing value to online customers is easy and efficient with the help of apps and software that are dedicated to users experiencing your business and the products and services you offer through an online path. If you want to commence the app and software development journey, you certainly need a helping hand from an experienced and skilful professional. It is crucial to choose the right app and software development professional or company that will brainstorm the best concepts and ideas for an app or software for your business, design your app or software and make sure your business app or software will make more and more of your clients engage, so your business is guaranteed to succeed in this highly competitive world.
What Is App or Software Development?
In the realm of professional programming and coding, software development and app development has already become almost interchangeable terms. Despite a few differences, both terms pretty much mean the process of creating, designing, deploying and supporting software or applications both for mobile devices and for the web. The programming tools for software development and app development may differ at times, however, the goals and results are pretty much the same. Therefore, no matter if your desire is to create an app or software, you are looking for the same type of software engineering specialist or a professional developer.
Software or app are both types of programs that tell your computer or mobile device what to do. There are three main types of software – system software, programming software and application software. Whenever you want to create a program that will be related to your business and useful for your clients and other users, you most certainly need the help of an application developer. Software and app development can be used in favour of different brands and businesses within all industries and fields. It helps brands and businesses gain a competitive advantage. However, in order for your business to experience all the benefits of software or an app, proficiency is required in the designing and creation process. Therefore, you need the right specialist who utilizes the right techniques and technologies that can accelerate deployment, efficiency and quality.
Why Choose Software and App Development Services by Bulgaria Plus?
If you are seeking professional app and software development support and help, we at Bulgaria Plus can offer the services you are looking for. Here are just a few reasons why working with us on your software and app development project could be really beneficial for your business.
One-stop solution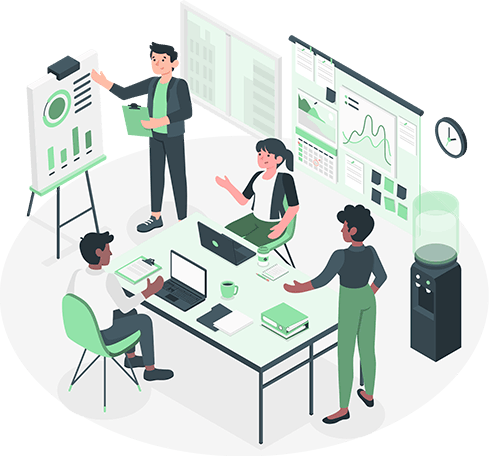 Our company offers services and work that supports the entire process of app and software development – from the initial steps down to finally issuing the app or software, monitoring its work and taking care of potential errors. It does not matter if we work for a big corporation or a small enterprise, we always tailor our projects and work to the specific requirements and needs of your business. Our professionals provide a variety of skills, taking care of brainstorming spot-on concepts and idea evolution, business consult and analysis, development, testing, maintenance, support, and everything in between.
Great expertise
We at Bulgaria Plus bring to the table years of experience and expertise. We will help you choose the right technology, features and components for your app or software, thoroughly research the different aspects of the project so we can make sure you are making the best decisions. A software or app designed and created by us will guarantee rapid progress and minimise the risk of mistakes.
Skillful specialists
We can offer the help and knowledge of a wide range of professionals, all of them specialised in a certain niche of the app and software development process – people, who drive vision into reality, crafting user-friendly interface, strategising the app's technical architecture, ensuring the app/software work error-free and efficiently.
A professional app and software development company like Bulgaria Plus incorporates all your business aspects for creating web and mobile products that keep your business ahead of the competition, no matter current trends and technology developments.